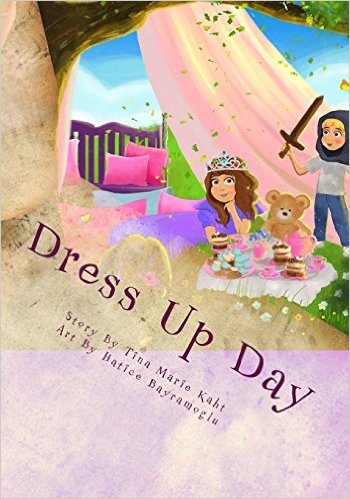 Labor Day is upon us and what better time to get children thinking about what he or she wants to be when they grow up by reading them a fun book to get the wheels in their brain turning? Dress Up Day  is a fun picture book that does just that!
Dress Up Day   is a children's picture book that encourages playtime and dress up with other kids. While it doesn't discuss Labor Day, it is also a book that can introduce discussion by parents of their own occupation with their children, as well as encourage their child's dreams for the future. The book invites the reader to play dress up with her and her friends as they  try on several different outfits and visualize themselves in different careers.
Dress Up Day has fun rhymes, and colorful illustrations depicting both girls and boys of diverse backgrounds. Career roles depicted in the book include everything from doctor and farmer, to police officer and fireman, as well as roles children especially little girls – may not normally see in books, including the role of judge, soldier and a pilot. It is a great book for encouraging young children to dream. It's never too early to start planning for your child's future, so why not get some help in doing it with a book!
Dress-Up Day: Written by: Tina Marie Kaht &  Illustrated by Hatice Bayramoglu
About CalicoKidz.com
CalicoKidz.com reviews books that celebrate diverse cultures and educate young children ages 1-10. Its mission is to educate parents and educators about children's books that promote diversity to give educators that teach diverse populations and parents of culturally diverse and religious backgrounds, including those with special needs have a source where they can find children's books that represent children of diverse populations. We also aim to support independent self-published authors who write educational and culturally diverse books.